Special features of Aktakom ATK-1001 clamp meter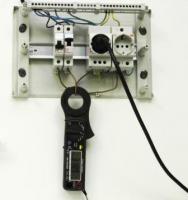 10/16/2017
When diagnosing electronic equipment, various power supplies as well as measuring low currents with contactless method it's not necessary to use a clamp meter with a large jaws. For such measurement tasks Aktakom clamp meter range has many clamp meter-multimeter models with a small diameter of coverage but at the same time high functionality like ATK-2001, ACM-2047 and ATK-1001.
ATK-1001 is designed to work only with alternating current and voltage, but it's also capable of measuring alternating current from 10 μA with very good accuracy of 1% only. Covering the conductor with the clamp meter jaws you immediately get the results on the display.
Aktakom ATK-1001 is a perfect measuring tool for electricians and power engineers.
Technical specifications of ATK-1001:
AC measurement at 0...60 A range with 10 μA resolution
AC voltage measurement at 0...400 V range with 0.1 V resolution
Resistance measurement at 0...400 Ohm range with 0.1 Ohm resolution
Diameter of coverage: 1.2 in / 30 mm
5 ranges when measuring AC (40 mA, 400 mA, 4 A, 40 A, 60 A)
Sound continuity test
3¾ digit LCD
Frequency range: 40...1000 Hz
Graphical scale
"0" setting with a single button
Data hold function
Max./min. values hold
Relative measurement mode
Overload protection (up to 600 V) when measuring resistance
Power supply: 3 V (1.5 V batteries – 2 pcs)
Consumption current 10 mA
More details are available of page of Aktakom ATK-1001.
---
Related Information:
Industry news
Deals - Special offers
Design. Engineering. Value. Interest. Creativity. Encyclopedia.