New Aktakom model – ATT-2590 infrared thermometer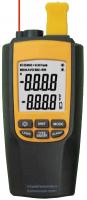 08/14/2017
We are ready to introduce a new model that is now included into our catalog – new Aktakom ATT-2590 IR thermometer.
Aktakom ATT-2590 is convenient for contact (K-type thermocouple) and contactless (pyrometer) measurement of the surface temperature of objects. For the best target indication Aktakom ATT-2590 uses a laser marker.
ATT-2590 IR thermometer is especially suitable when other temperature measuring methods are not acceptable. Thus when you need to measure the temperature of a moving object, surface under voltage, dirty or hard-to-reach surface.
All of the received measuring data is displayed on a high-contrast 4 digit display.
Below you may see the specifications of ATT-2590 IR thermometer depending on the preferable measurement method:
Pyrometer:
Measurement range: -50...300°C (-58...572°F)
Resolution: 0.1°C /0.1°F
Accuracy:
±5°C/9°F at -50...-20°C range
± (1,5% of the measured value +3°C /5°F) at -20...300°C range
Emission coefficient: constant 0.95
Optical resolution: 2:1
Contact method:
Measurement range: -200...1300°C (-328...2372°F)
Resolution:
0.1°C /0.1°F (<1000°C)
1°C /1°F (>1000°C)
Accuracy:
± (0.2 of the measured value + 1°C /2°F) at -200...-100°C range
± (0.1% of the measured value + 0.7°C /1.4°F) at -100...1300°C range
Time response: 0.5 sec
More details can be checked on page of Aktakom ATT-2590.
---
Related Information:
Industry news