How to take correct measurements with Aktakom AM-1018 digital multimeter?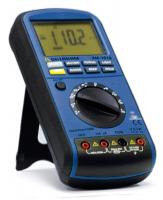 08/21/2017
Aktakom AM-1018 multimeter is designed to solve a wide range of electrotechnical measuring tasks. Moreover this model has built-in isolation tester function of up to 2 GΩ with 50, 100, 250, 500 and 1000 V voltage (1,5% accuracy).
AM-1018 multimeter has the following features:
Large LCD with full angle, 5000 counts
Resistance, capacitance and frequency measurements
AC/DC true RMS measurement
Max/min value measurement
Relative measurements
Auto and manual measurement range selection
Backlight control
Overload protection
Auto turn-off
Performance reaching 600V CAT III
Insulation resistance measurement up to 2 GΩ, voltage 50...1000V
Power: 1.5V x 6 AAA
On page of Aktakom AM-1018 multimeter, namely in Application tab you will find the detailed instruction for the following measurement types:
ACV Measurement
DCV Measurement
DC mV/AC mV Measurement
Impulse Frequency/Duty Ratio/Temperature Measurement
Diode/Continuity Measurement
Resistance Measurement
Capacitance Measurement
DC μA/AC μA Measurement
DC mA/AC mA Measurements
Insulation Resistance Measurement
Linear Frequency Measurement
Maximum Value/Minimum Value/Average Value Measurement
Backlight Control
Click AM-1018 to find more details.
---
Related Information:
Industry news
Deals - Special offers
Design. Engineering. Value. Interest. Creativity. Encyclopedia.