Aktakom ACE-1768 input-output module for smart home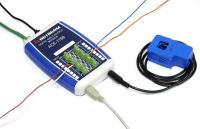 08/01/2022
Aktakom ACE-1768 8-channel USB / LAN input-output module is designed to remotely monitor the status of sensors (the sensors that have "on" or "off" output statuses) and to control discrete input devices that can be terminated with the monostable relay.
All inputs and outputs are galvanically isolated from the main circuit of ACE-1768 USB / LAN input-output module. The module has 8 outputs and 8 inputs. All inputs and outputs have "on" status indication.
Reading and the output controlling can be made via computer locally through USB interface or remotely through Ethernet network.
Specifications
Input resistance: 1.2 kOhm
Operating input current: 3 mA / max 50 mA
Max. input voltage (reverse): 6 V, operating direct: 48 V
Min. input operate voltage: 3.6 V
Input operational delay time of the module: 10 ms
Module outputs are made as metal-oxide-semiconductor relay with triggering/releasing time less than 3 ms
Output operation time of the module: 10 ms
Output resistance ("off" status): more than 10 MOhm
Output voltage (max): 60 V
Operating output current: 130 mA
Transmission resistance (closed status) of metal-oxide-semiconductor relay: not more than 25 Ohm
More details can be checked on ACE-1768 page.
---
Related Information:
Industry news
Deals - Special offers
Design. Engineering. Value. Interest. Creativity. Encyclopedia.