How to use AKTAKOM AMM-1130 multimeter?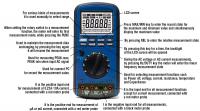 05/23/2016
AKTAKOM AMM-1130 digital multimeter is a reliable handheld multipurpose instrument with a wide range of functions and built-in optically isolated USB interface.
Its numerous features include the following:
22000 counts measurement
ACV and DCV measurements up to 1000V
DC measurement accuracy up to 0.05%
0.01 Ω resistance resolution and 10μV voltage resolution
Linear frequency measurement, logic frequency/duty ratio measurement
Capacitance measurement from 0.001nf to 220mF
AC true RMS measurement
Temperature Measurement
Min/Max values measurement
Relative measurement
PEAK max/min measurement
46-segment bar graph indication and frequency measurement path
Automatic shutdown/continuous working mode selection
Back light control
USB infrared interface
Display, record and graphics software of computer
Overload protection
Sound alarm for misplug
For your convenience we have added the detailed instruction of its operation in Application tab. Also you will find the answers for frequently asked question as well as the controls description on page of AMM-1130.
In Software tab you may check the appropriate software used with this multimeter model, they are:
Aktakom DMM Light Software for Multimeters
Aktakom DMM Light software is designed to enter the current value into PC, to display it and the measurement history as a table or graph defining max, min and average values, to proceed and save the data received from AKTAKOM AMM-1130 multimeter into files.
Aktakom DMM Pro Software for Multimeters
Aktakom DMM Pro software is designed for the full-scale control of Aktakom AMM-1130 digital multimeter.
Due to its wide range of capabilities to process the measurement data this software can turn an ordinary multimeter (or several multimeters) and a PC into efficient multichannel and multifunctional system.
Please click to Multimeter AKTAKOM AMM-1130 link for more detailed information.
---
Related Information:
Deals - Special offers
Design. Engineering. Value. Interest. Creativity. Encyclopedia.