AKTAKOM AM-1081 - digital multimeter with hybrid power supply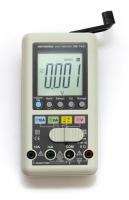 06/11/2018
AKTAKOM AM-1081 is a digital multimeter used to measure DC/AC current and voltage, resistance, capacity, frequency, diode test and continuity test. The embedded accumulator can be charged with a handheld generator, also AMM-1081 can be powered with batteries.
AM-1081 page contains detailed specifications as well as the detailed information concerning its application, for example:
AC / DC voltage measurement
Resistance measurement
Continuity, Diode measurement
Hz Measurement
Capacitance Measurement
Current 10A (AC/DC) measurement
etc.
At the same time "FAQ" tab will help you to find the answers for the questions you may have:
What does «Smart» indicator mean in the like mode of AKTAKOM AMM-1081 multimeter?
How can I select the measurement range when operating AKTAKOM AMM-1081?
Does AKTAKOM AMM-1081 multimeter have auto power off function?
How can I deactivate Auto Power Off function of AKTAKOM AMM-1081 multimeter?
Visit AKTAKOM AM-1081 page to check all of the device features and capabilities.
---
Related Information:
Deals - Special offers
Design. Engineering. Value. Interest. Creativity. Encyclopedia.