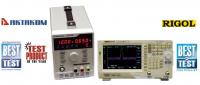 11/11/2015
Herewith we would like to present a new unique Best in Test Winner Package (RA-11) which consists of 2 finalists of Best in Test Awards 2013 held by Test & Measurement World.
New package includes:
1. Well-known AKTAKOM APS-7305L DC Programmable Power Supply controlled remotely from your iPad or Android which got 2 awards at once «Power supply» and «Test Product of the Year» in 2013 at Best in Test show!
AKTAKOM APS-7305L DC Programmable Power Supply allows remote control through any mobile device, such as an iPAD, iphone, PC, or Android mobile device via remote control mode. Aktakom reports that these power supplies feature superior precision and stability! AKTAKOM Power Manager (APM) software allows users to set and pre-set inputs, graph, as well as, time control the power supplies output.
2. Rigol DSA815-TG 1.5 GHz Spectrum Analyzer which was a finalist of «Signal Analyzers» nomination.
Rigol's new DSA815 spectrum analyzer redefines the product category by setting new standards for performance and price. The DSA815 features a unique widescreen display, compact design and easy-to-use interface and operations, making it ideal for benchtop or field apps in RF and wireless testing and production. The new spectrum analyzer offers the ability to measure smaller signals using our digital IF filter, which allows for smaller bandwidth settings and reduces displayed noise levels. The DSA815 also distinguishes between signals with a frequency difference as little as 100 Hz.
DSA815 includes a wide range of standard functions including AM/FM demodulation and a preamplifier. In addition, Rigol offers great options including an EMI filter and quasi-peak detector kit and a 1.5 GHz tracking generator.
Buying this package you get not only high-end authoritatively recognized devices but tangible benefit as well!
Retail price of Rigol DSA815-TG is $1495 + AKTAKOM APS-7303L for $199 which is $1694 totally.
You may buy Best-in-Test Winner Package for 1594$ only! YOU SAVE 100$!

Find details on Best in Test Winner Package (RA-11) page.