AKTAKOM ATT-2065 thermometer with a wide temperature range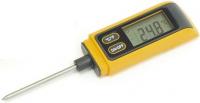 05/18/2020
If you are looking for a compact and light weight penetration thermometer we'd like to your attention to AKTAKOM ATT-2065 model.
One of the most important parameters for any technological processes is temperature. AKTAKOM ATT-2065 low-cost penetration thermometer has a wide temperature range which is perfect for quick measurement of internal temperature of different objects. Temperature measurement range is -58…+518°F / -50…+270°C; resolution: 32.2°F / 0.1°C; min/max values hold function; auto power off function. Power supply: 2 x 1.5 V.
Check AKTAKOM ATT-2065 page to see more details.
---
Related Information:
Design. Engineering. Value. Interest. Creativity. Encyclopedia.