New 37-5 Plastic Shock/Leak Proof Carrying Case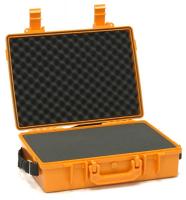 10/26/2015
Now our product range includes a new model of carrying case – 37-5.
37-5 is a plastic shock and leak proof carrying case which is designed to carry devices and any other things that require careful handling and convenient storage. It protects portable devices from the damaging effect of moisture, dust and rust.
The inner parts are made of polyurethane (porous foam) to provide the necessary useful space. Parts perforation makes the internal space fit the device/other things shape.
The case has an additional removable strap and is equipped with reliable and firm locks as well as the loops for additional locking parts. This durable case can be used for many years.
37-5 has the following dimensions:
External dimensions: 18 x 14 x 5.2 in / 456 x 355 x 133 mm
Internal dimensions: 16.5 x 11.8 x 4.7 in / 420 x 300 x 120 mm.
In our special section you may choose a carrying case or a tool bag in accordance to the equipment you have. Besides 37-5 you may chose any other model out of the following list:
---
Related Information:
Industry news
Deals - Special offers
Design. Engineering. Value. Interest. Creativity. Encyclopedia.