AKTAKOM AM-1019 Digital Multimeter. How to make the right choice?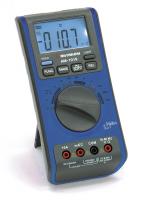 04/27/2020
AKTAKOM AM-1019 digital multimeter is to be highly valued by specialists, solving wide range of professional tasks. High quantity and variety of this model options will allow you to choose functions mostly suitable for your work. Besides the main measurements (AC and DC current 0.1mA…600A; Resistance 0.1Ω...40MΩ; Capacitance 1pF...200μF; Frequency 0.001Hz...200kHz; Temperature: 20°C...+1000°C) the device is capable of measuring illuminance, noise level and air moisture.
The features of AM-1019 are as follows:
Display: 3999 counts
Measurements: luminosity, sound level, humidity
Auto range
Data hold
Relative measurements
Diode test, continuity test
Backlit display
Auto power off
In order to make the right choice we suggest you to check "Application" tab on the page of AM-1019 where you can find the specifications and measurement methods, and also there is User's guide available for your convenience.
---
Related Information:
Deals - Special offers
Design. Engineering. Value. Interest. Creativity. Encyclopedia.