New waveform generators OWON AG1012F and AG2062F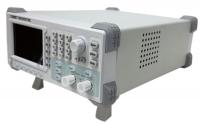 02/23/2015
Our Online store has a new section now – Waveform generators OWON. Along with popular AKTAKOM and RIGOL generators OWON models have enlarged the range of low cost multifunctional devices.
General-purpose DDS-generators OWON AG1012F and AG2062F are multifunctional generators-frequency meters which unite function generator and arbitrary waveform generator within one device.
Direct digital synthesis (DDS) use allows you to receive precise stable output signal with low distortion level.
Friendly user interface and convenient controls position will help you to quickly learn how to operate the device. OWON AG1012F and AG2062F have USB host, USB device and RS232 interfaces. This is capable of meeting all customers' requirements.
Advanced DDS technology.
2 independent output channels.
Vertical Resolution: 14 bits.
Standard Waveforms: Sine, Square, Pulse, Ramp, and Noise
Arbitrary Waveforms: Exponential Rise, Exponential Fall, Sin(x)/x, Step Wave, and others, total 48 built-in waveforms, and user-defined arbitrary waveform
Modulation Waveform: AM, FM, PM, FSK, Linear / Logarithm Sweep and Burst
Frequency Resolution: 6 digits
Frequency Range: 100mHz ~ 200MHz
Input / Output type: counter, external modulation, input / output, external trigger, external reference clock.
4 inch (480 × 320 pixels) TFT LCD
Interfaces: USB Host/Device, RS232.
For more details click AG1012F and AG2062F pages.
---
Related Information:
Special offers
Design. Engineering. Value. Interest. Creativity. Encyclopedia.