New AKTAKOM AM-3123 LCR Meter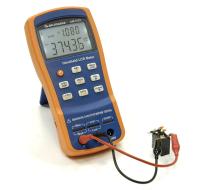 05/09/2014
Our Catalogue keeps on including new models. Thus the family of our AKTAKOM LRC meters has one more new model now.
New AKTAKOM AM-3123 LRC meter is a perfect combination of outstanding performance and convenience. Accurate measurements of passive-components can be achieved in all occasions for a long period of time.
AKTAKOM AM-3123 is designed to measure Inductance (L), Capacitance (C), and Resistance (R). USB port allows connecting the LCR meter to PC.
Find the detailed specifications and pictures of the new model here.
---
Related Information:
Industry news