AKTAKOM AM-3123 LCR Meter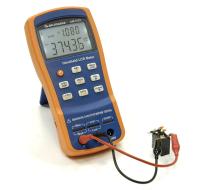 07/13/2020
AKTAKOM AM-3123 LRC meter is a perfect combination of outstanding performance and convenience. Accurate measurements of passive-components can be achieved in all occasions for a long period of time.
AKTAKOM AM-3123 is designed to measure Inductance (L), Capacitance (C), and Resistance (R). USB port allows connecting the LCR meter to PC.
The main features of the model:
Basic measurement accuracy: 0.25%
Gorgeous dual-color cast shell
40,000 counts for primary parameter
Innovatively compatible terminal configuration: 5-terminal test slot and 3-terminal banana jack
Intelligent Auto LCR function
Measurement speed up to 4 meas/sec, fast automatic range switch design
Constant output impedance: 100 Ohm
Percentage display and 4-tolerance comparator: 1%, 5%, 10%, 20%
Automatic OPEN/SHORT correction detection
Data Hold, Max/Min/Average recording
Utility function configuration and current setup recovery after power-off
Standard Mini-USB interface, SCPI compatible
Find the detailed specifications and pictures of the new model here.
---
Related Information:
Deals - Special offers
Design. Engineering. Value. Interest. Creativity. Encyclopedia.