Test. Measure. Innovate – Rohde & Schwarz showcases unique mobile test solutions at MWC Barcelona 2023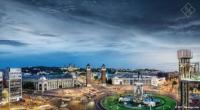 01/26/2023
The mobile industry is meeting in Barcelona at Mobile World Congress from February 27 to March 2, 2023. At the Fira Gran Via in hall 5, booth 5A80, Rohde & Schwarz will showcase a wide variety of leading test innovations, covering three main themes: test solutions to accelerate 5G, private network performance and quality, and automotive connectivity.
Test solutions to accelerate 5G
5G services have become mainstream in the early-adopting countries, however, the full potential of the new technology will unfold with high performance 5G stand-alone deployments, private and industrial networks, and new devices supporting Release 17 reduced capability (RedCap NR) or non-terrestrial networks (NTN) enabling completely new use cases. In this context, the 5G ecosystem has to master an even broader range of challenges, from enabling devices to aggregate and sustain large numbers of band combinations efficiently to low power consumption and highly sensitive transceivers that can receive and send signals from and to space. Rohde & Schwarz has multiple state-of-the-art test solutions exhibited at MWC2023 that address these challenges. They range from R&D to manufacturing of devices and infrastructure equipment – and cover all the necessary stages for a network operator.
Visitors can experience multiple demonstrations based on various use case tailored hardware configurations for the R&S®CMX500 one-box signaling tester, the test platform from Rohde & Schwarz for the entire value chain of 4G/5G device testing:
User experience end-to-end test of 5G based virtual and extended reality applications (VR/XR)
5G VoNR audio quality POLQA® measurements integrated into the test platform
LTE/NR cellular device carrier aggregation band combination testing up to 10CC (FR1/FR2) out of a single box tester
5G RedCap device testing, from R&D to conformance
5G FR2 RF conformance testing under extreme temperature conditions over-the-air in combination with the R&S®ATS1800C CATR based mmWave test chamber and a novel temperature bubble setup.
---
Related Information: