Tektronix and Rapid Electronics announce increased technical partnership in the UK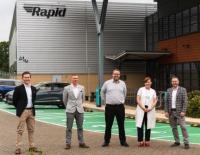 10/08/2021
Tektronix, a global leader in measurement technology, announces an increased technical partnership with Rapid Electronics, based in Colchester, UK.
This increased partnership means customers in the UK will benefit from easier access to solutions for their test and measurement requirements and more technical assistance from both the Tektronix and Rapid Electronics sales and engineering teams.
Rapid Electronics will be a technical and commercial point of contact for the Tektronix entry and mainstream portfolio, as well as the extensive Keithley portfolio, with a focus on expanding into busy engineering environments and continuing their exemplary work in the education sector.
www.tek.com
---
Related Information: