Tektronix delivers automated USB Type-C® compliance and debugging solutions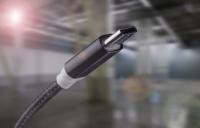 07/20/2021
To meet consumer demand for ever faster data downloads, from live streaming videos to global videoconferences, Tektronix, Inc. announced three new testing solutions to help drive the future of data transfers.
The new transmitter automated test solutions are designed to meet the demanding requirements of next-generation technologies for large, rapid data transfers and low-latency video displays. Tektronix USB4™, Thunderbolt™ 4 and DisplayPort™ 2.0 automated compliance and debugging solutions address the most common challenges design engineers face, including test time, signal integrity and Device Under Test (DUT) control. The solutions also boast physical layer electrical testing and characterization, which is crucial for designers to comply with the next-generation standards over the USB-C connector.
The new USB4 standard increases data transfer rates up to eight times faster than the USB 3.0 standard and delivers fast and secure 100W USB-C charging. DisplayPort 2.0 is set to triple data bandwidth performance compared to the DisplayPort 1.4 and includes 16K video resolution, higher refresh rates, and improved user experience with augmented/virtual reality (AR/VR) displays.
Find more details here.
www.tek.com
---
Related Information: