Rohde & Schwarz Launches Tx9 and Tx9evo transmitters for 5G Broadcast / Multicast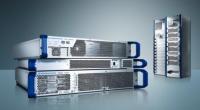 01/29/2021
In a strategically important announcement that could see the widespread international adoption of 5G Broadcast / Multicast, Rohde & Schwarz has announced two 5G Broadcast-enabled transmitters - the field-proven R&S®Tx9 & Tx9evo transmitter series. In addition, for existing Rohde & Schwarz transmitter users, the migration to 5G Broadcast/Multicast can be achieved through a software upgrade and minor hardware upgrade.
Access to 5G Broadcast / Multicast services opens up entirely new business models, such as venue-casting, ultra-high-quality live video streaming, live commerce and over-the-air software updates/upgrades.
Worldwide, most terrestrial transmitter networks have been upgraded to digital transmission technology. As the global market leader, R&S transmitters have earned the reputation of being the most advanced, energy-efficient transmitters on the market – now Rohde & Schwarz is offering users a straightforward migration pathway to the world of 5G Broadcast & Multicast. Also, Rohde &Schwarz is a leading manufacturer of electronic Test & Measurement and communications equipment. Network operators use this equipment to successfully install, maintain and optimize broadcast networks of all types, making R&S a very effective and reliable 5G Broadcast partner.
---
Related Information: