Convergent Audio/Video Monitoring and Multiviewer-Solution for Broadcast und Streaming Media by Rohde & Schwarz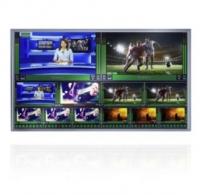 04/13/2018
Driven by recent advances in standardization, there is an industrywide trend for high performance Ethernet/IP-based networking and IP-based configuration and control of next-generation workflows in production/contribution environments. R&S PRISMON helps customers to master these trends by adding support for SMPTE 2110 and AMWA IS-04 to its latest software release. Additionally, the versatile set of I/O interfaces has been extended up to 100 GE, and the high performance platform R&S PRISMON ULTRA (1RU) has been added to the portfolio. With this, the latest R&S PRISMON meets even the highest customer demands for throughput and processing power.
Today each channel requires simultaneous monitoring of multiple broadcast and OTT streams carrying identical content. Depending on the actual distribution path, each stream is encoded with different quality and bit/framerate. The resulting diversity causes high technical complexity and many sources of possible errors. R&S PRISMON now provides simultaneous multi-delivery monitoring to successfully address this challenge for providers of broadcast and streaming media services on a single, converged platform.
Other recent feature enhancements of R&S PRISMON are e.g. certification for Dolby Digital™/Dolby Digital Plus™/Dolby E™ , enhanced root cause analysis via a new Incident Recording function, SCTE-35 monitoring for MPEG-TS and OTT streams, and the addition of CMAF to the already comprehensive protocol suite for OTT monitoring.

---
Related Information: