Rohde & Schwarz presents the first moveable over-the-air test chamber for 5G antennas and transceivers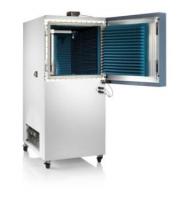 02/23/2018
The new R&S ATS1000 antenna test chamber from Rohde & Schwarz allows developers and production engineers to perform over-the-air (OTA) measurements for 5G on their antenna modules, transceivers, chipsets and wireless devices. Antenna and transceiver measurements are possible in the frequency range from 18 GHz to 87 GHz. The system therefore supports all millimeter-wave frequency bands currently considered for 5G. The compact test chamber makes it possible to measure mobile devices in the far field.
For fast OTA testing of antenna arrays
The R&S ATS1000 consists of a rack-sized shielded RF test chamber on castors, suitable mounts for test objects and sensors, and a wideband measurement antenna, which covers the whole frequency range. Using the associated test and measurement equipment and the R&S AMS32 antenna measurement software, radiation patterns of 5G antenna arrays can be measured extremely precisely in just a few minutes. A positioning laser supports precise orientation of the test object. All this makes the R&S ATS1000 antenna test system the ideal test environment for fast and accurate repeatable measurements.
First 3GPP 5G NR RF measurements
By combining the R&S ATS1000 with an R&S TS8980 5G RF test system, users can determine relevant RF parameters (e.g. power, ACLR and EVM) from OTA measurements. This is crucial because many 5G components do not have any connectors and therefore cannot be tested in conducted setups. The system enables comprehensive 3D characterization, verification measurements and functional testing of 5G components. Rohde & Schwarz conformation test solutions use the well-established R&S CONTEST software to output results in the form of 3D graphics.
Also for functional testing
For automated, final functional testing, the R&S AMS32 software allows users to control the R&S ATS1000 remotely. It also generates configurable reports for documentation. The solution additionally offers near-field/far-field transformation for larger test objects.

---
Related Information: