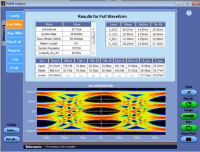 12/27/2016
Tektronix, Inc., a leading worldwide provider of measurement solutions, released an update to its PAM4 solution for validating 400G physical layer transmitter designs for its DPO70000SX ultra high-performance oscilloscope series. The latest release adds PAM4 error detection, industry-leading Signal to Noise and Distortion Ratio (SNDR) measurement capability, and new advanced FFE/DFE equalization capabilities into one easy to use solution.
To keep up with demand, serial data rates are now approaching 56 Gb/s per channel. This in turn has driven various 400G standards groups such as IEEE 802.3bs and OIF-CEI to leave behind NRZ signal modulation techniques in favor of more bandwidth efficient PAM4 modulation. With many of the standards still evolving, designers working on 400G designs are struggling with the complexity of PAM4 transmitter measurements. This latest PAM4 release reduces complexity by pulling together all PAM4 measurement capabilities into a single application.
"Designers working on 25 Gb/s and 50 Gb/s products face an uphill battle as they transition from NRZ to PAM4," said Brian Reich, general manager, Performance Oscilloscopes, Tektronix. "Our latest PAM4 solution brings an extensive list of PAM4 measurement capabilities into a single user experience that is easy to operate. And because of the superior signal acquisition capabilities of the DPO70000SX platform, we are delivering the best margin possible for characterizing PAM4 components and systems."
Highlights of the new PAM4 solution, which tracks to the latest revisions of the IEEE and OIF-CEI standards include:
Error Detection and Visualization – Repeating symbol patterns are automatically recognized, so that symbol error rate (SER) and bit error rate (BER) values are accumulated and reported. An Error Navigator allows individual symbol errors to be viewed in the acquired waveform, together with contextual information.
Industry-Leading SNDR Measurement Capability – Support for the key new SNDR measurement is included in this release. Delivering results up to 34 dB, the DPO70000SX ATI-based oscilloscopes deliver the highest fidelity SNDR measurement capability in the industry.
Equalization Support -- This release incorporates the advanced Feed Forward Equalization (FFE) and Decision Feedback Equalization (DFE) signal conditioning requirements specified in latest IEEE 802.3bs 400G specification.
The PAM4 solution takes advantage of the unique Asynchronous Time Interleaved (ATI) technology found in DPO70000SX 70 and 50 GHz oscilloscopes to deliver unprecedented low noise and measurement accuracy. Traditional instruments using synchronous time interleaved architectures have too much noise or insufficient bandwidth to allow effective noise and jitter decomposition of complex electrical and optical signals. The ATI acquired signal along with the new PAM4 solution provides a level of precision and usability never offered together in a real-time oscilloscope.