New Software Aktakom for Power Supplies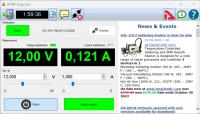 09/18/2023
Aktakom Power Manager Express
software allows users to remotely control their power supply APS-7306 via PC.
APS-7306
programmable DC power supply is designed to provide stabilized voltage and current with high precision and low noise. The software allows users to utilize Measure, Set Up and Initialization functions, as well as, automatic switching off of the outputs of the device at the end of the program. The program follows basic configurations and some features of operation as the device control panel.
The software in the standard package of the device has no physical media (CD) and can be downloaded at
www.tmatlantic.com
after the purchasing and registering the equipment with a serial number. This software is not free however its cost is included into device value.
---
Related Information:
Deals - Special offers
Design. Engineering. Value. Interest. Creativity. Encyclopedia.