Compact and powerful AKTAKOM AMM-1008 multimeter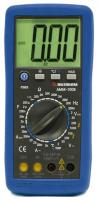 07/27/2020
AKTAKOM AMM-1008 digital multimeter offers high accuracy and all the measurement functions in a compact housing.
Multimeter AKTAKOM AMM-1008 has a wide range of typical measurement functions (A=/A~/V=/V~/Hz/Ω/C/T). This model can be used for diagnostics of automotive circuits and powerful household appliances due to the extended current range (for a short time up to 20 A).
AKTAKOM AMM-1008 multimeter has double-layer insulation and the mechanical blocking of the input connectors to prevent the incorrect connection of the probes and the erroneous choice of the measuring function.
Protection categories of this small and powerful multimeter are as follows: CAT III 600V; CAT II 1000V.
Among other features of AKTAKOM AMM-1008:
LCD 3 1/2 digit (2000 counts), the backlight
Hold function for reading
Full overload protection on all ranges
Battery Indicator
For more information check AKTAKOM AMM-1008 page.
---
Related Information:
Industry news
Deals - Special offers
Design. Engineering. Value. Interest. Creativity. Encyclopedia.