Compact and user-friendly AKTAKOM ATE-8702 magnetic meter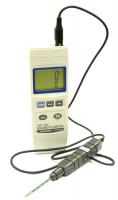 01/18/2021
AKTAKOM ATE-8702 magnetic meter (gaussmeter or teslameter) can be widely used to measure magnetic field parameters in industry, materials science, electrical engineering and laboratory studies.
This model has expanded capabilities for large values measuring. Due to various measurement ranges it can be used for different measurement tasks. Maximum measurement range of ATE-8702 is 3000 mT (30000 G). Also one of ATE-8702 advantages is Hall sensor use which enables operation in higher magnetic fields. A distinctive feature of ATE-8702 from other similar meters is the ability to measure constant and alternating magnetic fields.
Measured values are clearly displayed on a large two-line (52x38 mm) high-contrast display. Among other functions of this device is the ability to hold the current value, record the maximum and minimum values and also "zero" setting function.
AKTAKOM ATE-8702 magnetic meter can be easily connected to PC via RS-232/USB interface.
Moreover ATE-8702 model is self-powered with 6 AAA batteries and due to its light weight (270 g only) and portable dimensions it can be used for in-the-field work and monitoring of the electromagnetic environment.
Find more information about the specifications of ATE-8702 meter on its page. FAQ tab will also help you to get more information about its operational capabilities. User manual is also available for your perusal.
---
Related Information:
Industry news
Deals - Special offers
Design. Engineering. Value. Interest. Creativity. Encyclopedia.