How often should be the filter of AKTAKOM ASE-7012 smoke absorber replaced?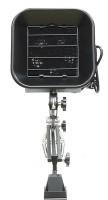 10/01/2018
To make it easy for our users to operate AKTAKOM equipment we publish the answers for the frequently asked questions. In the present piece of news we'd like to share some tips for ASE-7012 filter replacement.
Carbon filter of AKTAKOM ASE-7012 smoke absorber can be replaced with a new one normally once a month in case it started to loose absorbing capacity. The filter may also need the replacement if its surface is covered with dust. Keep the filter surface dry escaping water or moisture contact.
To clean the fan use a soft cloth moistened with water or alcohol then let the fan get fully dry. Do not use gasoline-containing liquids!
Follow our news and find more tips for other equipment operation.
---
Related Information:
Deals - Special offers
Design. Engineering. Value. Interest. Creativity. Encyclopedia.