AKTAKOM AMM-3035 RLC meter for your measurement tasks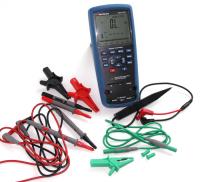 04/13/2020
AMM-3035 RLC meter from AKTAKOM is a professional device which uses innovative technology allowing user to automatically measure the following parameters: inductance, capacity, resistance, Q factor, dissipation factor, phase factor.
The testing frequency is up to 10kHz and it can output up to 100kHz test frequency. Moreover the device is very compact and lightweight, and dust and waterproofing features make it convenient to use AMM-3035 RLC meter in the field.
Other features of AMM-3035 RLC meter are listed below:
Sampling rate: 5 times/sec
Operating temperature: 0-50°C,<=80%R.H.
Storage temperature: -20-60°C
Temperature coefficient: 0.15 (Spec.Acc)/°C, <18°C or >28°C
Safety: comply with IEC61000 EMC standard
Overload indication
Lower battery indication
Auto power off (in 10 minutes)
Check the special offer available for this model! For more details click the link.
---
Related Information:
Deals - Special offers
Design. Engineering. Value. Interest. Creativity. Encyclopedia.