Compact Aktakom AMM-1032 digital True RMS multimeter with autoranging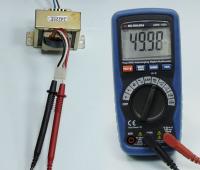 03/19/2018
Professional and low-cost Aktakom AMM-1032 is a compact True RMS multimeter with a wide LCD (6000 counts) with large figures, backlight and analog scale. Built-in contactless AC voltage sensor allows user to quickly and safely check the circuit power availability.
Aktakom AMM-1032 multimeter corresponds to the following safety standards: CATIII 600V, CATII 1000V. Also these multimeters are equipped with a solid double molded plastic housing.
Among other features:
Non-contact Voltage Detector: Led/Vibrating
Insulation: Class2, Double insulation
Polarity: Automatic, (-) negative polarity indication
Auto Power Off: this function can't be disabled
Overrange: "OL" mark indication
Low battery indication: The "BAT" is displayed when the battery voltage drops below the operating level
Measurement rate: 2 times per second, nominal
Operating environment: 0°C to 50°C (32°F to 122°F) at < 70 % relative humidity
Storage temperature: -20°C to 60°C (-4°F to 140°F) at < 80 % relative humidity
Dimensions (HxWxD): 5.9x2.7x1.9in/150x70x48mm
Weight: 255g only
Additional pictures and detailed application information are available on page of Aktakom AMM-1032.
---
Related Information:
Industry news
Deals - Special offers
Design. Engineering. Value. Interest. Creativity. Encyclopedia.