Antique Volt Meter celebrates its 101st birthday!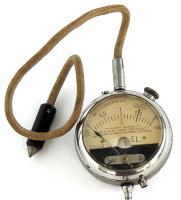 01/10/2018
Famous history and Pawn Star hero antique volt meter is a unique 101 year old piece of history! This old volt meter / battery tester is a true collectors dream!
This century old instrument is the only one available for sell in US and one of the very few in existence. Such rear instrument will make a great centerpiece for any scientific collector, museum or university library. This devise is in excellent working condition and could be used for testing even today though it was produced in 1916! Additional bonus is the original leather case and instructions in German all in great condition.
Check the specifications and a special video about this antique volt meter on its web page.
---
Related Information:
Industry news
Deals - Special offers
Design. Engineering. Value. Interest. Creativity. Encyclopedia.