Methods of temperature measurement with AKTAKOM ATT-2590 thermometer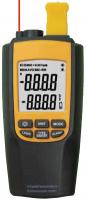 12/06/2017
Aktakom ATT-2590 is an infrared thermometer convenient for contact and contactless measurement of the surface temperature of objects. For the best target indication Aktakom ATT-2590 uses a laser marker.
ATT-2590 IR thermometer is especially suitable when other temperature measuring methods are not acceptable. Thus when you need to measure the temperature of a moving object, surface under voltage, dirty or hard-to-reach surface.
Features of Aktakom ATT-2590:
High-contrast 4 digit display
Environment temperature indication
Laser (pyrometer) that can be switched off
Backlight
Portability
Handy and solid housing
Low-battery indication
Auto power off that can be deactivated
Temperature ranges of the device:
-50...300°C (-58...572°F) (for pyrometer mode)
-200...1300°C (-328...2372°F) (when using contact measurement method)
To make the work with this thermometer more convenient for user we added the detailed step by step instruction on how to measure temperature with both contact and contactless methods. These instructions can be found on Aktakom ATT-2590 page in "Application" tab.
Also we have updated "FAQ" tab that now contains several frequently asked questions and answers for them. Thus you will get to know how to switch on the backlight and deactivate one more feature of the device – its Auto power off function.
Find more details on page of Aktakom ATT-2590.
---
Related Information:
Industry news
Deals - Special offers
Design. Engineering. Value. Interest. Creativity. Encyclopedia.