Aktakom ACM-1010 clamp meter. Combination of usability and the low cost!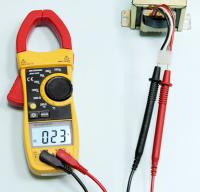 09/25/2017
Aktakom ACM-1010 clamp meter is designed for non-contact alternate current measurement as well as AC/DC voltage, resistance and other measurements including temperature.
Besides its perfect specifications and high performance Aktakom ACM-1010 is remarkable for its very low price – 39$ only! This is one of the most important factors considered when choosing the measuring instrument.
Aktakom ACM-1010 clamp meter has the following technical characteristics and features:
Diameter of coverage: 42mm/1.7in
Display: LCD 1999 counts
Base error: 1%
DC voltage measurement: up to 1000 V
DC voltage measurement: up to 750 V
Alternating current measurement: up to 20/200/1000 A
Resistance: up to 200 Ohm/ 2 kOhm
Temperature: from -40°C to 750°C
Sound continuity test
Range selection: manual
Data hold function
Backlight available
On page of Aktakom ACM-1010 you will find:
The detailed description
Accuracy tables
Lots of pictures with measurement examples
Application tab with the instruction for use
You may easily compare the parameters of ACM-1010 model with the other Aktakom clamp meters with the help of our special web site service. Therefore go to "Clamp Meters AKTAKOM" section and click "Compare all".
---
Related Information:
Industry news
Deals - Special offers
Design. Engineering. Value. Interest. Creativity. Encyclopedia.