New Aktakom Budget Soldering Package (AA-19). Ideal for hobby!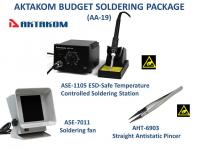 07/14/2016
The range of our Multi-Instrument Packages has been broadened with a new item! Aktakom Budget Soldering Package (AA-19) is formed especially for inventors, students of technical universities and for hobby.
The package consists of:
Aktakom ASE-1105 soldering station. This soldering station is ESD-safe which is an important requirement that should be met since the absence of antistatic protection may cause the damage of valuable electronic components with electro static discharge.
Aktakom ASE-7011 soldering fan for absorption of an allocated smoke at a ration.
Aktakom ATH-6903 straight antistatic mounting pincer with pointed thin tip made of high-quality stainless steel.
Reliable and easy-to-use soldering station, soldering fan with a low noise driver and carbon filter and certainly the antistatic pincer for operation with static sensitive components – this is the main and irreplaceable kit to work with electronic components and repair small appliances.
Aktakom Budget Soldering Package (AA-19) costs $74 only!
Hope you will find this offer very convenient and useful!
---
Related Information:
Industry news
Deals - Special offers
Design. Engineering. Value. Interest. Creativity. Encyclopedia.