New model from Aktakom! ATH-4235 4-channel DC Power supply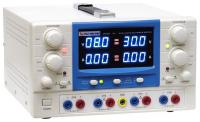 10/17/2016
Our Online store keeps on including new models! We would like to introduce a new model of 4-channel DC power supply.
Aktakom ATH-4235 is a high-precision DC regulated power supply which is widely used in debugging process, repair and laboratory research. The model has 4 channel 2 of which can be adjusted and the other 2 are half adjustable.
The two adjustable outputs can also be selected for constant voltage or constant current, designed in high stability and performance circuit. In constant voltage state the output voltage can be arbitrarily adjusted from 0V on in the nominal range; and in the state of constant current the output current can be adjustable from 0A on in the nominal range. The two outputs can be connected in parallel or in series.
The other two half adjustable channels are as follows: one is 3…6.5V/3A and the second one is 8…15V/1A. These channels have good stability and ripple factor and it has reliable overload protection to protect ATH-4235 against being damaged whenever overload or short circuit.
Other features include the following:
4 3-digit LCDs
Separate current and voltage indication
Indicators of current (CC) and voltage (CV) stabilization
Short circuit protection
Stabilization mode (current, voltage)
Tracking mode for adjustable channels
Click the present link to check all the specifications and abilities of Aktakom ATH-4235 4-channel DC power supply.
---
Related Information:
Deals - Special offers
Design. Engineering. Value. Interest. Creativity. Encyclopedia.