APS-1721LS – New Model of Benchtop Remote Controlled Programmable DC Power Supply from AKTAKOM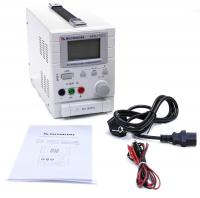 06/13/2016
At the moment AKTAKOM power supply sector includes one more new model. Herewith we would like to inform you about new APS-1721LS remote controlled programmable DC power supply and its advantages.
AKTAKOM APS-1721LS is designed for laboratory, industrial and other engineering solutions due to its wide range of opportunities. This single channel power supply uses a four-wire (4-wire) connection scheme. Also it's compatible with several AKTAKOM software available for your convenience.
Thus APS-1721LS can be easily used with AKTAKOM Power Manager (APM). This software provides a wide range of control capabilities of output voltage and stabilization current both in manual and functional modes. Functional control is a very powerful tool of APM software which allows you not only to control your AKTAKOM power supply automatically by computer but also to program its off-line operation mode by prespecified algorithm. Functional control mode in APM software allows automatically controlling the output parameters (voltage and current) of the power supply according to the principle specified with the help of graphics and tabular editors. In a convenient graphics editor user may specify 10 standard forms of parameters (including sine, square, triangle, saw, flash, pulse, 2 types of exponents, 2 types of S-curves), as well as, almost any arbitrary form which can be described formulary. The program operation in equipment operation compatibility mode is also available.
Other features of AKTAKOM APS-1721LS remote controlled programmable DC power supply are as follows:
Output: 0-120V @ 0-1A
Utilizing SMD technology
LCD displays voltage and current
Automatic conversion of stable voltage and current
Step-type electric current adjustment
With extention output connectors
Remote control via USB or LAN
See what other capabilities AKTAKOM APS-1721LS has by clicking here.
---
Related Information:
Deals - Special offers
Design. Engineering. Value. Interest. Creativity. Encyclopedia.