New Aktakom Soldering Package (AA17) – save $42!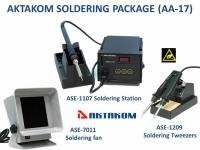 12/14/2015
Great Aktakom Soldering Package (AA17) is composed of best selling Aktakom soldering tools. The package is perfect for education, service shops, light industry and hobby.
This great package includes:
AKTAKOM ASE-1107 soldering station is especially suitable for mounting and reworking SMD components by hand, soldering common and directly-inserted electronics or lead free soldering under other special conditions.
ASE-1209 Soldering Tweezers are specially designed for further use with ASE-1107 soldering station. We are ready to offer a wide range of tweezer tips for different applications optically.
ASE-7011 Soldering fan can be described as:
high-efficiency fan for absorption of an allocated smoke at a ration
easily replaced absorbing filter on a basis of foamed polyurethane, impregnated with the activated coal with high absorbing ability. Carbon content: 78% 316g/m². Absorptive capacity: 65%
easily changeable slope angle of the fan
Regular price is $192.00. Aktakom Soldering Package (AA17) Sale price is $150.00. You save $42.00!
---
Related Information:
Industry news
Deals - Special offers
Design. Engineering. Value. Interest. Creativity. Encyclopedia.