New Aktakom-Rigol EDU package (RA-12)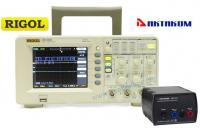 11/23/2015
We are glad to offer new budget Aktakom-Rigol EDU package (RA-12). The devices this package consists of are widely used in education, training, production line, research and development areas.
The new package includes:
Rigol DS1052E Digital Oscilloscope
Aktakom APS-1015 Low Power Switching DC Power Supply
Rigol DS1052E dual-channel digital oscilloscope is a low-cost entry-level oscilloscope. Rigol DS1052E digital oscilloscope has basic function set such as cursor measurements, automatic measurements, mathematical functions, FFT-based spectrum analyzer function, "pass/fail" test etc. that makes Rigol DS1052E digital oscilloscope an optimal instrument for students, educational institutions and limited budget organizations.
AKTAKOM APS-1015 model is a low power switching DC power supply with 2 fixed output voltages and over current protection.
Retail price of Rigol DS1052E is $329, Aktakom APS-1015 - $49.
Aktakom-Rigol EDU package (RA-12) can be purchased for $358 only!
Buying Aktakom-Rigol EDU package (RA-12) you save $20!
---
Related Information:
Deals - Special offers
Design. Engineering. Value. Interest. Creativity. Encyclopedia.