New low cost AKTAKOM APS-1015 and APS-1006 power supplies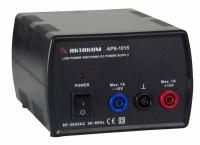 05/04/2015
The product range of our Online store includes now new models of power supplies. They are AKTAKOM APS-1006 and APS-1015. These models are foremost designed for educational purposes, they are perfect for laboratory works and very simple in use.
AKTAKOM APS-1006 is a low power switching DC power supply with 6 fixed output voltages and over current protection. AKTAKOM APS-1015 model is a low power switching DC power supply with 15 fixed output voltages, over current protection is included as well.
Both models have modern design, they are made of plastic, have light weight and compact dimensions. Special attention is paid to safety since both models have double isolation. They convert current voltage of 36 or 42 V received from the electric service panel into 4V DC voltage.
---
Related Information:
Deals - Special offers
Design. Engineering. Value. Interest. Creativity. Encyclopedia.