See our new Aktakom ESD Package (AA15)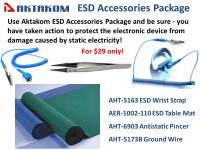 04/06/2015
As you know when working with radio-electronic components it's necessary to pay special attention to equipment protecting from electrostatic charge.
Our Online store has new section now – ESD Tools, Equipment and Accessories. This section was created to help you to equip your ESD laboratory. New products of this section include low cost but very effective equipment designed to protect electronic components, circuits and devices from damage caused by static electricity.
Here we would like to introduce new Aktakom ESD Package (AA15).
Place AER-1002-110 anti-static mat on your desktop, ground it with AHT-5173B ground wire, connect your AHT-5163 ESD wrist strap and use AHT-6903 antistatic pincer. Check the connections and be sure - you have taken all steps to protect the electronic device from damage caused by static electricity! And all of this for $29 only!
Electrically surrounded? – Get grounded!
---
Related Information:
Industry news
Deals - Special offers
Design. Engineering. Value. Interest. Creativity. Encyclopedia.