New AKTAKOM models of smart tool bags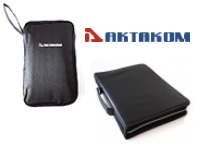 03/09/2015
AKTAKOM is ready to offer new models of tool bags: AHA-2504 and AHA-2505.
Practical and convenient bags AKTAKOM AHA-2504 and AHA-2505 will help you to organize your working space the best way. These tool bags can be used for carrying and storing tools, small instruments, and documentation. The durability and functionality of both bags are very high!
AKTAKOM AHA-2504 is made of soft fabric, has 2 inner pockets and special elastic bands to keep instruments and tools. The bag handle has an optimal length to carry it on your wrist. The bag is decorated with AKTAKOM logo.
AKTAKOM AHA-2505 is a nice compact suitcase made of imitation leather, the trimming is of black strap sewed with white knit. This bag is very smartly designed and has an inner transparent pocket with a snap fastener, an elastic band for writing set with imitation leather stop. It also has 4 more rubber bands of different size for tools.
AKTAKOM AHA-2504 and AHA-2505 tool bag are very convenient for use out of the office, keeping the tools and instruments and also can be a very nice gift for your business-partners.
---
Related Information:
Industry news
Deals - Special offers
Design. Engineering. Value. Interest. Creativity. Encyclopedia.