New AKTAKOM AMM-2043 electrostatic field meter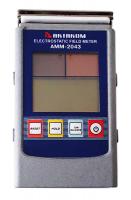 03/23/2015
Herewith we'd like to inform of a new device that has been recently added to our Catalogue. AKTAKOM AMM-2043 electrostatic field meter is a palm-sized electrostatic measuring device ideal for checking ion balance and sensor for polarity of static charge.
This device is used for checking the performance of ionizers, locating and measuring electrostatic charge build-up, deciding best location for installing ionizers and testing their efficiency, etc.
Features of AMM-2043 are: measuring polarity and intensity of static charge on parts and assembly lines; checking ion balance performance of various ionizers.
Find more details at the page of AKTAKOM AMM-2043.
---
Related Information:
Industry news
Deals - Special offers
Design. Engineering. Value. Interest. Creativity. Encyclopedia.