Antistatic wrist straps from AKTAKOM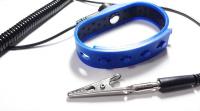 02/23/2020
As we know antistatic equipment is made for the control over electrostatics. AKTAKOM has a wide range of antistatic wrist straps with high quality characteristics, low cost and which comfortably fit your wrist. They are AHT-5161, AHT-5163 and AHT-5165.
Grounding strap protects you from electrostatic charging and hereby prevents the damaging of electronic board or equipment.
These models differ with the material they are made of. Thus AHT-5161 and AHT-5163 are made of elastic nylon and AHT-5165 – of silicone. The straps material contains conducting insertion.
AKTAKOM AHT-5161, AHT-5163 and AHT-5165 antistatic wrist straps are designed to fit a wrist of any size. Before starting your work please remember to make sure your ESD-strap is connected to the ground wire.
Find more antistatic tools in our "ESD Tools, Equipment and Accessories" section.
---
Related Information:
Deals - Special offers
Design. Engineering. Value. Interest. Creativity. Encyclopedia.