Different types of grounding equipment from AKTAKOM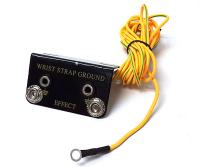 10/18/2019
To protect electronic circuits when working with electronic components, boards and devices from potential danger it's necessary to use protective ground equipment. AKTAKOM keeps a wide range of antistatic tools and equipment for this purpose.
AHT-5173B and AHT-5173R ground wires are designed to connect antistatic mat to the ground bus. To see the difference between these two wires types go to their web page. Also our Catalogue includes special AEC-9402 Ground node which represents a metal panel to connect under the working surface with 2 buttons, 2 ground sockets, a cable and a ring terminal.
For more details and models visit our "ESD Tools, Equipment and accessories" section.
---
Related Information:
Industry news
Deals - Special offers
Design. Engineering. Value. Interest. Creativity. Encyclopedia.