AKTAKOM ACM-2352 clamp and watt meter. 2 in 1 device for your measurement tasks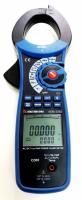 07/20/2020
AKTAKOM ACM-2352 professional True RMS 1500A AC watt clamp meter provides accurate watt, AC current and voltage readings.
The main feature of this combined device:
True RMS Value (Voltage and Current)
Large LCD Display with Backlight
4 digits with dual display LCD
MIN/MAX measurement
True power / apparent power / power factor measurement
Data Hold
Auto Ranging
Overflow Indication
Auto Power Off
2.16" (55mm) Jaw opening
Moreover for this very model there is "Absolute measurement error" service available which allows you to estimate the measurement accuracy considering uncertainty (error) in the absolute value. It's important if you take measurements at the range edge when the error value contributes to the value displayed on the device screen.
To get the value range it'd be enough to enter the estimate of the value under measurement into Value area in the accuracy table and to see the range of possible values taking all of the standardized errors into consideration.
Note: a point is used as a separator of the integer and fractional part. This service is implemented on the web pages of our device models.
For more details check AKTAKOM ACM-2352 page.
---
Related Information:
Industry news
Deals - Special offers
Design. Engineering. Value. Interest. Creativity. Encyclopedia.