About Us
Located in Downtown Miami, Florida  T&M Atlantic specializes in supplying testing and measuring equipment for electronic and technical use. We are also suppliers of soldering equipment.
T&M Atlantic is a fast growing company with promising future.
We specialize in Instrument Design, software development, software integration, manufacturing, testing and worldwide distribution of measuring devices, remote control devices and soldering equipment. Our customers include: laboratories, R&D centers, colleges, universities, tech companies electronic repair shops and general public. We also have our own test and service center.
Design and manufacturing facilities are located around the world in such countries as South Korea, China, Taiwan, USA.
Our strength is Testing and Distribution of measuring equipment that is preformed from our facility headquartered in USA.
Online store www.tmatlantic.com distributes measuring devices and soldering equipment to the laboratories, R&D centers, colleges, universities, tech companies and to the general public.
The majority of our products are sold under AKTAKOM trade mark. We are also offering several other brands.
Our Mission is to promote innovative, high-quality, reliable and easy to use measuring equipment. Our main goal is a Complete Customer Satisfaction.
We strive to become one of the leading suppliers of electronic measuring devices through a combination of newest technologies, affordability to the customers, ease of use and competitive prices for all our products.
AKTAKOM wins a Test & Measurement World Best in Test Award!
Santa Clara, CA, USA, Jan. 29, 2013 – The results of The Best in Test Award competition, annually held by the prestigious «Test & Measurement World» magazine, were announced at the DesignCon conference.

AKTAKOM APS-73xxL series of programmable power supplies has become the winner in the «Power Supply» category. Such giants of the electronic industry like Keithley Instruments, Agilent Technologies etc. competed to become the winner in this category but the innovative developments of the high-skilled team of AKTAKOM specialists have been highly appreciated and got the deserved international recognition.

The highlight of the competition is the «Test Product of the Year» nomination. This year the title of the Product of the year has was to AKTAKOM APS-73xxL power supply series.
Low-cost AKTAKOM APS-73xxL DC power supplies are designed to supply radio equipment with stabilized voltage or current when operating in debugging process, repair and laboratory research. AKTAKOM APS-73xxL series are programmable power supplies with 3 LED displays. There is a single channel, output regulated voltage of 0…30V, output current of 0…3A (APS-7303L) or 0…5A (APS-7305L), overheat protection, current and voltage stabilization mode.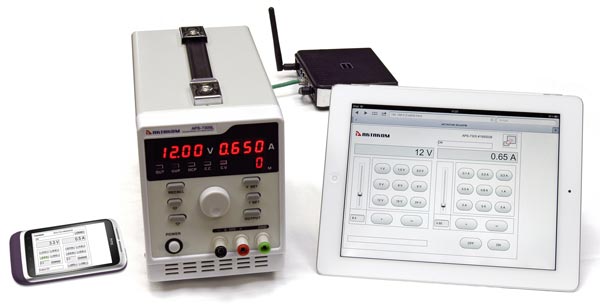 AKTAKOM APS-73xxL series programmable DC power supplies differ from other similar devices by wide capabilities of local and remote control through AKTAKOM Power Manager software.

Manual control mode. Including the use of 4 memory cells to store preset voltage and current.

Control mode with the built-in memory use.

Remote control mode to operate AKTAKOM APS-7305L DC power supply by computer via USB interface through AKTAKOM Power Manager Software. Moreover the USB interface has full galvanic isolation between the power supply and the computer.

Remote control mode to operate AKTAKOM APS-7305L programmable power supply by computer using an USB cable or LAN cable (ethernet).

Remote control mode to operate AKTAKOM APS-7305L DC power supply by computer via WEB interface. This remote control mode allows you to operate a power supply remotely not only by computer but through iPad, iPhone or any other Android-based mobile device.

Remote control mode to operate AKTAKOM APS-7305L programmable DC power supply throught the remote access to the computer USB-connected to APS-7305L. AKTAKOM Power Manager Software provides the operation in «server-client» mode even for power supplies without built-in LAN interface. Meanwhile the power supply is physically connected to computer-server via USB interface and the data is available for reading from any computer of the network.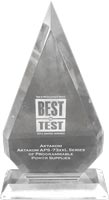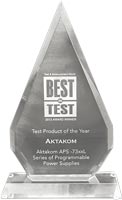 Latest innovations from AKTAKOM
Software Aktakom Electronic Load Manager allows users remotely control electronic loads
Innovative Software Aktakom Power Manager used in APS-7xxL series of power supplies that won the Best in Test product of the year award is now available in power supplies Aktakom APS-3xxx with 4-wire circuits.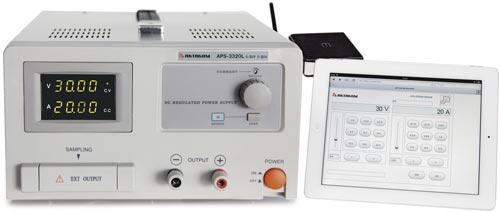 Second generation of Aktakom Power Manager – Electronic Load Manager is now available for electronic loads. Electronic Load Manager software allows users to remotely control Aktakom AEL-83xxL electronic load via any digital device.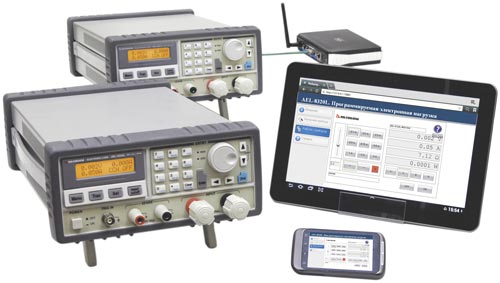 Software solutions for environmental meters Aktakom Data Logger Monitor
Many of Aktakom environment meters have an option of recording data to SD-card and to transfer it to a PC for the data analyses. Such transfer of data is "plug-and-play" and does not offer any software.

The latest innovation from Aktakom significantly increases functionality of such devises by establishing a direct communication with PC and transferring large amounts of data from a hub of several devices into one table. Such innovation creates a complete laboratory data table that could be saved, copied and studied in real time.
Currently there are two versions Aktakom Data Logger Monitor software available. OS Windows and OS Android.
Software ADLM-W is designed for personal computers and is compatible with Windows XP x32, Windows 7 x64, Windows 7 x32, Windows 8 x64 and Windows Vista.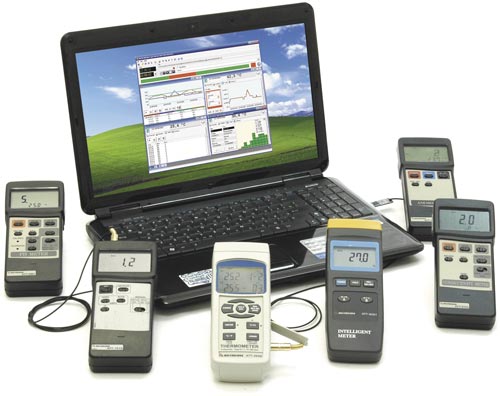 Software ADLM-A is designed for Android tablets using Android 4.0 and above.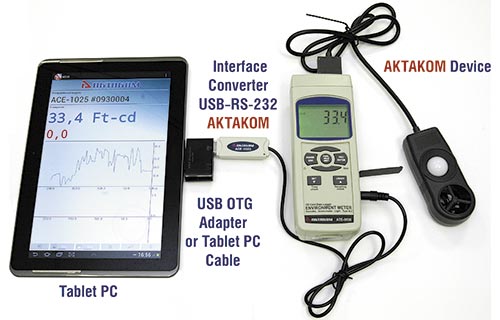 Both versions of ADLM are designed to work with AKTAKOM ATT-xxxx and ATE-xxxx series environment meters and to transfer data from device to PC for data logging, monitoring and analyses in real time.