05/04/2011
Fluke Corporation, the global leader in portable electronic test and measurement technology, is introducing the Fluke 2AC VoltAlert™ AC non-contact voltage tester, the newest addition to the Fluke VoltAlert family.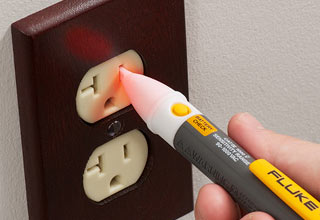 The Fluke 2AC tester detects energized circuits and defective grounds, making it an ideal first-line go/no-go tester for an electrician on the factory floor as well as do-it-yourselfers around the house. The tip of the pocket-sized tester will glow red when within close proximity of an outlet, terminal strip, or power cord where voltage is present.
When working on or near electrical equipment, professional electricians and amateurs alike must check for the presence of potentially dangerous voltage. Objects such as lighting ballasts, manhole covers and even sink faucets can be electrified by defective grounding, creating a serious risk of electrical shock. It's common to encounter electrical systems where you can't be sure the power is turned off until you test it. When more than one person is working on a system and the circuit is not locked out, testing is vital to ensure a formerly-dead circuit has not been re-energized.
With the pocket-sized Fluke 2AC VoltAlert, users have a quick and convenient tool to quickly check circuits and equipment to see if live voltage is present. For more on how voltage testers are used, see the Fluke application note "Electrical testing safety part one: Preparing for absence of voltage testing. (.pdf)" This app note details how testers like the Fluke 2AC VoltAlert should be used with other test tools and lockout/tagout procedures to maximize safety in electrical work.
The Fluke 2AC includes a new always-on feature, allowing it to be ready to use at a moment's notice. The tester is built with special low power circuitry to sustain battery life, which is typically greater than one year. It also has an innovative 'Battery Check' button function to ensure battery and unit are in good condition when using the tester, providing a greater margin of safety and confidence in the tester's reliability.*
Additional benefits of the Fluke 2AC VoltAlert™ Tester include:
Voltage detection from 90 to 1000 V ac, suitable for a wide range of residential, commercial and industrial needs.
NEW! Always on, using special low power circuitry to sustain battery life and ensure your 2AC is always ready.
NEW! Innovative 'Battery Check' button function ensures battery is in good condition.
Category IV 1000 V overvoltage rated product for best-in-class user protection.
Integrated clip design, optimized for pocket storage.
Powered by two AAA batteries (included).
Fluke reliability and ruggedness, two year warranty.
*Use of Battery Check function is optional and for convenience only, it is not intended as a substitute for checking the unit on a known live source before and after use.
For more information on Fluke tools and applications, or to find the location of your nearest distributor, visit the Fluke Web site at www.fluke.com/voltalert.
Fluke Corporation, www.fluke.com