Keysight Enhances Automated Software Test Solution to Enable Multi-Platform Mobile App Testing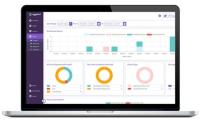 08/30/2023
Keysight Technologies, Inc. has released Eggplant Test 7.0, an enhanced version of the automated software test solution with powerful integrations that enable quality assurance (QA) teams to test mobile apps on multiple devices and operating systems simultaneously.
Mobile apps have become a ubiquitous part of modern digital life, facilitating everything from e-commerce and digital health to home security and business process management. However, users are unlikely to find an app useful if it is buggy or difficult to use. With the myriad of device and operating system combinations, testing mobile apps before they are released is more important than ever. QA teams need automated tools to speed up the validation of app compatibility, functionality, usability, performance, and security across multiple device configurations.
Keysight's Eggplant Test 7.0 meets this challenge with integrations that can test more than 7,500 operating system and device combinations through Sauce Labs' Real Device Cloud. The latest version of Eggplant Test offers QA teams advanced collaboration features, seamless integration with continuous integration tools, and the ability to connect with virtualized applications. These capabilities collectively enable automation, acceleration, and mitigation of risks inherent in manual testing to enhance the testing process.
www.keysight.com
---
Related Information: