Keysight Enables Advanced Pre-Tapeout Silicon Prototyping Using Digital Twin Signaling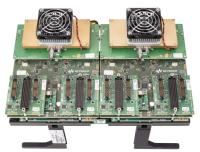 05/15/2023
Keysight Technologies, Inc. released a new Universal Signal Processing Architecture (USPA) prototyping platform, enabling semiconductor companies to conduct complete chip prototyping and verification, pre-tapeout, in a real-time development environment integrating digital twins of fully-compliant, standards-based signals.
The final step of the chip design process, known as the silicon tapeout, is an increasingly expensive procedure that leaves little room for design failure. If a design fails following the tapeout, chip makers must start over again with a new "re-spin" that can take 12 months or longer to complete. In addition to tying up valuable research and development resources, these chip redesigns can potentially cause the chip maker to miss a narrow time-to-market window.
To reduce the risks of design failures and expensive re-spins, the Keysight USPA platform provides chip designers and engineers with complete digital twin signaling to verify designs before they are committed to silicon. The USPA platform offers designers an alternative to proprietary custom prototyping systems by integrating ultrafast signal converters with a high performance, completely modular field-programmable gate array (FPGA) prototyping system.
---
Related Information: