Gold for Rohde & Schwarz: technology company recognized for its sustainability activities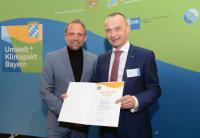 05/10/2023
The Bavarian Environmental and Climate Pact is a voluntary agreement between the Bavarian state government and the Bavarian private sector, and is one of Germany's most successful environmental initiatives. Companies that have signed up to the pact pursue specific goals voluntarily and autonomously to continually improve their environmental performance.
Since the 1990s, Rohde & Schwarz has maintained an environmental management system compliant with DIN EN ISO 14001 to nurture both the environment and its business. Rohde & Schwarz consistently implements this standard, which defines internationally accepted requirements, at its Munich headquarters and three production sites in Teisnach, Memmingen and Vimperk (Czech Republic).
Specific measures include inherently sustainable product design, photovoltaic systems on company buildings, heat pumps for air conditioning in buildings as well as green electricity to significantly reduce energy consumption and CO2 emissions.
www.rohde-schwarz.com
---
Related Information: