Anritsu Field Master Pro™ MS2090A Wins Fierce Innovation Award – Telecom Edition in T&M Category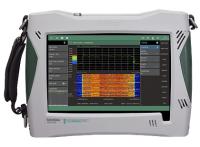 12/23/2022
Anritsu Company announces that its Field Master Pro™ MS2090A real-time spectrum analyzer has been named the winner in the Network Test & Measurement category Fierce Innovation Award – Telecom Edition 2022. The Field Master Pro MS2090A was recognized by a panel of judges based on criteria that included the instrument's ability to make a positive, innovative, real-world impact on the telecom industry.
The Fierce Innovation Awards seek to recognize the creators, makers, and doers of outstanding services and equipment unveiled in the past 12 months. It is intended to promote the competitive spirit and initiative to spark new design, development and distribution of inventive solutions; find revolutionary tech or services; and to acknowledge and honor the most visionary operators, service providers, and vendors for their commitment to next-gen business and consumer offerings.
Portable and lab-based hardware and software or centralized solutions for testing, management and maintenance of telecommunications networks were eligible for the Network Test and Measurement award. Judges evaluated all applications based on ease of use/ROI, effectiveness, technical innovation, competitive advantage, financial impact, and true innovation.
www.anritsu.com