Tektronix announces breakthrough Margin Test Solution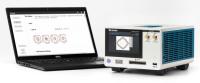 11/14/2022
Tektronix, Inc. announced a new product category that revolutionizes PCI Express testing, transforming time to market, cost, and accessibility. The new TMT4 Margin Tester breaks conventions of PCIe testing, delivering fast test times. Plug-and-play set up and easy-to-use interface combine to deliver in minutes results that, up until now, required hours or even days of set up and testing, often stretching costs to seven figures.
"TMT4 Margin Tester is the latest example of how Tektronix continues to develop innovative test equipment, advancing technology solutions that accelerate progress and uniquely solve real-world problems" said Chris Witt, Vice President and General Manager of Portfolio Solutions at Tektronix. "The TMT4 Margin Tester empowers engineers to realize technological advances with ever greater ease and speed."
TMT4 Margin Tester breaks new ground as a specialized testing tool for design and validation of PCIe Gen 3 and Gen 4 motherboards, add-in cards, and system designs. While PCIe testing normally requires complex test systems and engineers with deep expertise and knowledge, the TMT4 Margin Tester enables engineers at all levels of experience to evaluate the health of transmitter (Tx) and receiver (Rx) links faster than ever, greatly reducing time to market and cost of ownership.