Tektronix adds powerful new PCI Express® 6.0 solution to accelerate the next generation of high-speed devices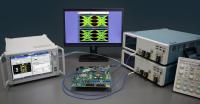 10/10/2022
Tektronix, Inc., in collaboration with Anritsu Corporation, introduces an intuitive new PCIe® 6.0 Receiver Test Solution that equips engineers to test PCIe 6.0 (Base) receivers and addresses ever-growing performance demands of the next generation of high performance systems. With this release, Tektronix provides a cohesive PCIe 6.0 transmitter and receiver test solution that delivers faster test times, higher-quality measurements, and an intuitive user interface.
In today's world, there is a constant demand for faster devices and technologies for high-speed networks. Engineers innovating the latest technology need the ability to test more and more data as it is transferred at increasing speeds. Data-intensive markets like artificial intelligence (AI), cloud, and data centers use PCIe as a de-facto standard. While the recently released Gen 6.0 standard provides fast speeds to handle such workloads, testing brings a unique set of challenges to companies charged with integrating PCIe 6.0 on their devices.
PCIe receiver validation is notoriously difficult due to the sensitivity of calibrating the stressed eye signal across a high loss channel. Tektronix's PCIe receiver test solutions provide confidence that designs are thoroughly tested at the required bit error rate (BER) target. The intuitive step-by-step tools provide link training routines for the Anritsu MP1900A BERT to ensure the receiver is tested accurately.
www.tek.com
---
Related Information: