Anritsu enhances universal wireless test sets to support Wi-Fi 6E UE, chipsets, and modules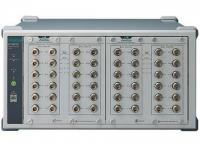 10/15/2021
Anritsu Company introduces a hardware option that extends the frequency of its TRX Test Module MU887002A for its Universal Wireless Test Sets MT8870A and MT8872A from 6 GHz to 7.3 GHz to address emerging Wi-Fi 6E designs. With the hardware option, the wireless test sets support RF tests of the 6 GHz band (5.925 to 7.125 GHz) specified by the IEEE 802.11ax WLAN and 3GPP Release 16 NR-U standards, creating an efficient method to evaluate TRX performance of devices, modules, chipsets, and other WLAN equipment during manufacturing.
Anritsu developed the new hardware option (MU887002A-007) to meet the market demand for test solutions to verify emerging Wi-Fi 6E designs. Engineers can install this option to enable their MT8870A/MT8872A test sets to support Wi-Fi 6E measurements without major changes or expense to the production-line configuration.
A key benefit of the option is that the MU887002A now supports a high modulated signal output power of –10 dBm (rms) at 6 GHz frequencies. The result is engineers can conduct RX tests, such as Max. Input Level measurement, without an external amplifier for improved accuracy, repeatability, and overall efficiency.