Element adds 5G VoNR testing capability with solutions from Rohde & Schwarz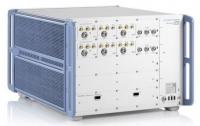 10/12/2021
PCTEST Engineering Laboratory, LLC, which recently became part of the Element Materials Technology Group, is offering 5G Voice over New Radio (VoNR) testing utilizing the R&S CMX500 5G radio communication tester. The R&S CMX500 can simulate a 5G standalone network including IMS services and exercise all critical VoNR functions.
5G standalone is the next stage of evolution for 5G networks. VoNR is a mandatory feature for the successful deployment of 5G standalone. The benefit of VoNR is vastly improved voice audio quality by using ultra-high definition codecs. The R&S CMX500 supports all codecs required for VoNR audio quality testing including AMR-NB, AMR-WB, EVS-NB, EVS-WB, EVS-SWB and EVS-FB.
5G VoNR is also playing an important role in emergency services. Emergency calls (E911) on 5G standalone networks will utilize VoNR. Critical to FCC requirements is the continued reliability of E911 voice calls as well as accurate determination of vertical and horizontal location in mobile devices. The R&S CMX500 radio communication tester supports E911 over VoNR along with associated location determination technologies such as A-GNSS and AML/ELS.
www.rohde-schwarz.com
---
Related Information: